Hinsdale County, Colorado, is the most remote area in the United States' lower 48 states. With a total area of 1,123 square miles, our county is made up of almost 96.5 percent public land. Hinsdale County is covered by mountains, including five 14,000 and over 20 13,000 ft. peaks, and contains one of the most road-less areas in the country. The Continental Divide crosses the county twice, and Hinsdale County is home to three national forests Rio Grande; Grand Mesa Uncompahgre & Gunnison (GMUG) and San Juan. The County is also host to the Slumgullion Earth Flow that slid and dammed the Lake Fork of the Gunnison River creating Lake San Cristobal. 
Hinsdale County is home to 774 residents with 374 residing within the city limits of the Town of Lake City. With an elevation of 8,671 feet and is the least populated county in the state of Colorado with Lake City as the county seat.
Whether you are a full time resident, a part time resident or a visitor, Hinsdale County has many outdoor adventures to offer. The summer and fall seasons boast hiking, biking, fishing and leaf peeping. The winter months bring skiing, snowshoeing, snowmobiling, ice fishing and ice skating. No matter the season Hinsdale County has many outdoor adventures.
Hinsdale County elects three County Commissioners and they hold Board of County Commissioners Meetings at 8:00 am the first and third Wednesday of the month.  All meeting are now conducted through Zoom and if anyone wants to be on the meeting notification list please feel free to email office@hinsdalecountycolorado.us or call 970-944-2225.  Meeting agendas are posted on this page next to a meeting date in the blue section at the bottom of the page. Past meeting agendas and minutes are posted under the Documents tab at the top of the page.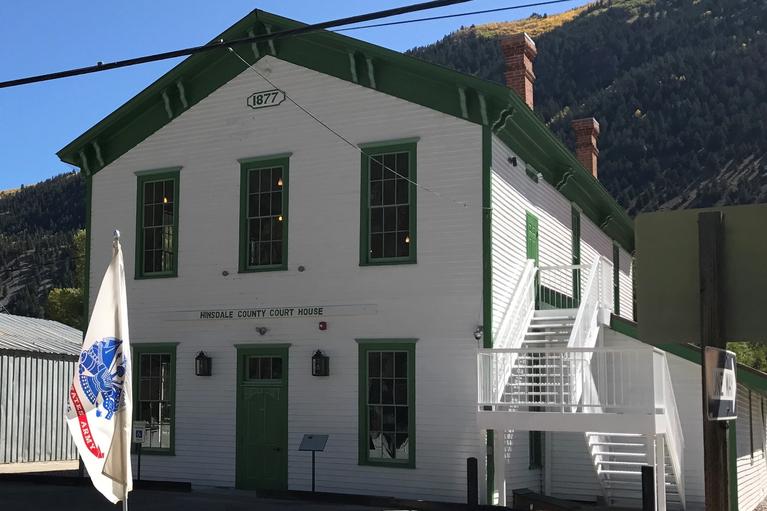 Silver Thread Public Health District is changing the way we report our COVID-19 testing numbers. With access now to both antigen 'rapid' testing and PCR saliva testing, which is sent to a lab with results returned in days, our ability to report pending cases and negative test results is not practical or useful. We will continue to maintain a running record of positive test results in both our counties and will also report the number of active COVID-19 cases in our communities. We will continue to report on current COVID-19 concerns on our Facebook page and will have the front page of our new website available soon. Search for Silver Thread Public Health District on Facebook for updates and information.
Tara Hardy, MS, Public Health Director
| | | | |
| --- | --- | --- | --- |
| 03/05/2021 | Positive | Pending | ACTIVE CASES |
|   | Resident/Non-Resident |   | Resident/Non-Resident |
| Mineral | 68            12 | 0 | 10                2 |
| Hinsdale | 20               5 | 0 | 0                0 |
Anyone feeling sick should call Lake City Area Medical Center at 970-944-2331 to report symptoms.
Anyone who is sick or exhibiting COVID-19 symptoms is required to self-isolate at home.
For up-to-date information:
Silver Thread Public Health District website
http://www.silverthreadpublichealth.org
Silver Thread Public Health District Facebook page
https://www.facebook.com/Silver-Thread-Public-Health-District-2938172373
Click here for more information
   Facebook 
Kristine Borchers is inviting you to a scheduled Zoom meeting.
Topic: Coffee Talk
Time: 10:00 AM Mountain Time Every Friday!   
Join Zoom Meeting
https://us02web.zoom.us/j/86310373718?
pwd=bmdqSm45MEZvZmZYQTZFcnNISmd2QT09
Meeting ID: 863 1037 3718
Passcode: 451056
One tap mobile
+13462487799,,86310373718# US (Houston)
Dial by your location
        +1 346 248 7799 US (Houston)    
Meeting ID: 863 1037 3718
Find your local number: https://us02web.zoom.us/u/kbpQOcEveu
Kristie Borchers
Hinsdale County Commissioner
PO Box 277
Lake City, CO  81235
district2@hinsdalecountycolorado.us
970-596-9071
The links below have great maps with avalanche information.  Please be safe out there before you decide to recreate in the back country.  Also, if you live in an avalanche prone area and may be cut off by a slide you should have a plan in place.  This plan should include food, water, alternate heat and charged cell phones.
https://www.avalanche.state.co.us/
https://www.facebook.com/sjcoem/
Did you know Colorado accounts for one-third of all avalanche deaths in the U.S. since 1950?  The ability to participate in a large variety of winter sports is one of the best perks of living in Colorado. With winter sports, however, come risks, especially in the backcountry!
Approximately 2,300 avalanches are reported to the Colorado Avalanche Information Center (CAIC) every season, and as many as ten times more go unreported. Avalanches occur in the high mountains of Colorado as the result of snow accumulating on steep slopes.  If the snowpack becomes unstable, it can suddenly release and rapidly descends downslope.  Avalanches can exert forces great enough to destroy structures and uproot or snap off large trees.
What causes an avalanche?  The addition of weight to the snowpack can trigger an avalanche. The weight can come from snowfall, drifting snow, or a person snowmobiling, snowboarding, skiing, or hiking.  More than 75 percent of the avalanche fatalities in Colorado are caused by people recreating in the backcountry. If you are an outdoor enthusiast, explore the information below to learn more about how to stay safe in the backcountry.  VIDEO: Avalanche Hazards in Colorado from the Colorado Geological Survey
Here are a couple of WEB sites with more Avalanche information. Please stay safe out there!
https://www.weather.gov/bou/avalanchesafety
Newly Elected County Officials!!
Congratulations to Hinsdale County's newly sworn-in Sheriff Chris Kambish and County Commissioners Robert Hurd and Greg Levine! Kambish, Levine and Hurd received the oath of office from Hinsdale County Clerk and Recorder Joan Roberts on January 12 in the Coursey Annex before friends and family. Kambish continues as Hinsdale County Sheriff after being appointed to the office in early 2020. Hurd (far right in above photo) will serve as District 3 Commissioner, while Levine (far left) will serve as commissioner for District 1. Hurd and Levine will join District 2 Commissioner Kristie Borchers on the Board of County Commissioners.
GOCO $1.30 mil Grant Award!
Lake City, Colorado, November 20, 2020 –
Great Outdoors Colorado Awards $1.3 million for purchase of Lake San Cristobal Peninsula and Island
Great Outdoors Colorado (GOCO) has awarded the Trust for Public Lands (TPL) $1,305,000 as part of the Resilient Communities Program to be used for the purchase of the peninsula at Lake San Cristobal.
Funds from the GOCO grant will allow the purchase and protection of the 10.3-acre peninsula property, which will become public open space for residents and visitors to Lake San Cristobal. Hinsdale County will enter into a partnership with TPL for management of the land and eventual transfer of the property to the county. The property will offer recreationalists views of the lake and nearby headwaters and will serve as a key access point for year-round activities.
Bureau of Land Management (BLM) Gunnison Field Office announced free firewood collection is available for the Alpine Loop Backcountry Scenic Byway and San Juan counties in the avalanche slide paths.  In addition to the Alpine Loop the public may collect downed firewood along Hinsdale County roads 20, 30, 35, 24 and 22. The public may also collect downed firewood within 30 feet of San Juan County roads 2, 4, 23, 24 and 110. No permit is required for collection.
Please respect private property and if you have any questions call the Gunnison Field office 970-642-4940 and for San Juan County call 970-387-9871.
For firewood collection on Slumgullion you will have to obtain a permit from the Forest Service office located at 216 N. Colorado, Gunnison, CO 81235.  The Gunnison office is open M-F 7:30 - 4:00 and for more information please call 970-641-0471.  You may also apply for a permit by mail with an enclosed check made out to USDA Forest Service and include a note with your physical address, mailing address and drivers license number.  The minimum price is $20 for 4 cords with a max of $100.
As part of a two-year, seasonal Pilot Program based on a special use permit with Colorado Department of Transportation (CDOT), OHVs were allowed to travel on Hwy 149 between County Road 30 and Ocean Wave Drive during the summers of 2019 and 2020.
Hinsdale County and Town of Lake City are applying for a new, three-year Pilot Program that will allow OHVs to travel along the same section of Highway 149 as stated above, between Memorial Day and September 30 each year, for 2021, 2022 and 2023. Both entities have approved resolutions to participate in a new Pilot Program. A new application will be submitted to CDOT's Transportation Commission in January, 2021. (click on links below for current County & Town Resolutions)
Hinsdale County Resolution No. 1, Series 2021
Town of Lake City Resolution No. 2020-1038
OHVs are allowed on Hinsdale County roads and Town of Lake City streets with operator and equipment restrictions and requirements in place. Please contact the Hinsdale County Sheriff's office at 970-944-2291 for up-to-date rules and regulations, or go to Hinsdale County Sheriff for updated regulation or OHV ordinance information.
​OHV operators driving on Hinsdale County and Lake City roads and streets must have a valid Driver's License or Operator's Permit and must carry standard motor vehicle liability insurance (Colorado standards 25/50K). All operators must have a Colorado State Parks sticker. All operators must observe county and town speed limits (maximum 15 mph on Lake City streets – lower if posted) and all traffic laws. All OHVs are required to stay on designated roads and must observe all road restrictions. For personal safety and the safety of others, please exercise common road courtesy and mountain-driving common sense.
Board of County Commissioner Meetings
Tuesday, December 29, 2020   9:00 am - Agenda
Wednesday, January 6, 2021  8:00am - Agenda
Special Meeting Tuesday, January 12, 2021 10:15am - Agenda
Wednesday, January 20, 2021  8:00am - Agenda
Wednesday, February 3, 2010  8:00am - Agenda
Friday, February 5, 2021 9:00am - Agenda
Joint Meeting Wednesday, February 17, 2021  8:00am - Agenda
Wednesday, March 3, 2021  8:00am - Agenda
Friday, March 6, 2021 11:30am - Agenda
Wednesday, March 17, 2021  8:00am - Agenda
Wednesday, March 31, 2021 8:00am - Agenda
Wednesday, April 7, 2021 8:00am
Wednesday, April 21, 2021 8:00am
Wednesday, May 5, 2021 8:00am
Wednesday, May 19, 2021 8:00am
Board & Committee Meetings
Marketing Meeting - Thursday, December 17, 2020 9am - Agenda
Planning Commission Meeting - Thursday, December 17, 2020 3pm - Agenda
Marketing Meeting - Thursday, January 14, 2021 9am - Agenda
Planning Commission Meeting - Thursday, January 21, 2021 3:00 pm - Agenda
Planning Commission Meeting - Thursday, February 25, 2021 3:00pm - Agenda
Sunday

Monday

Tuesday

Wednesday

Thursday

Friday

Saturday

 

1

2

3

BOCC Meeting 8am

4

5

Special BOCC Meeting 9am

6

 

 

 

 

 

 

 

7

8

9

10

11

12

13

 

 

 

 

 

 

 

14

15

HOLIDAY

Offices CLOSED

President's Day

16

17

Joint BOCC Meeting 8am

 

18

19

20

 

 

 

 

 

 

 

21

22

23

24

25

26

27

 

 

 

 

 

 

 

28

 

 

 

 

 

 

 

 

 

 

 

 

 
Sunday

Monday

Tuesday

Wednesday

Thursday

Friday

Saturday

1

2

3

BOCC Meeting 8am

4

5

6

 

 

 

 

 

 

 

7

8

9

10

11

12

13

 

 

 

 

 

 

 

14

15

16

17

BOCC Meeting 8am

18

19

20

 

 

 

 

 

 

 

21

22

23

24

25

26

27

 

 

 

 

 

 

 

28

29

30

31