Hinsdale County, Colorado, is the most remote area in the United States' lower 48 states. With a total area of 1,123 square miles, our county is made up of almost 96.5 percent public land. Hinsdale County is covered by mountains, including five 14,000 and over 20 13,000 ft. peaks, and contains one of the most road-less areas in the country. The Continental Divide crosses the county twice, and Hinsdale County is home to three national forests Rio Grande; Grand Mesa Uncompahgre & Gunnison (GMUG) and San Juan. The County is also host to the Slumgullion Earth Flow that slid and dammed the Lake Fork of the Gunnison River creating Lake San Cristobal. 
Hinsdale County is home to 774 residents with 374 residing within the city limits of the Town of Lake City. With an elevation of 8,671 feet and is the least populated county in the state of Colorado with Lake City as the county seat.
Whether you are a full time resident, a part time resident or a visitor, Hinsdale County has many outdoor adventures to offer. The summer and fall seasons boast hiking, biking, fishing and leaf peeping. The winter months bring skiing, snowshoeing, snowmobiling, ice fishing and ice skating. No matter the season Hinsdale County has many outdoor adventures.
Hinsdale County elects three County Commissioners and they hold Board of County Commissioners Meetings at 8:00 am the first and third Wednesday of the month.  All meeting are now conducted through Zoom and if anyone wants to be on the meeting notification list please feel free to email office@hinsdalecountycolorado.us or call 970-944-2225.  Meeting agendas are posted on this page next to a meeting date in the blue section at the bottom of the page. Past meeting agendas and minutes are posted under the Documents tab at the top of the page.
__________________________________________________________________________________________________________________________________
HELP WANTED -
HEAVY EQUIPMENT OPERATOR —Hinsdale County Road and Bridge has an opening in Lake City for a Full Time Heavy Equipment Operator.  Duties include: track dozers, Cat graders, excavators, backhoes, road maintenance, and snow plowing.  Minimum 5 years' experience with at least a Class B License.  Pay based on experience ($18-$24/hour).  For more information, call 970-944-2400 or email roads@hinsdalecountycolorado.us
CLEANING STAFF WANTED - HINSDALE COUNTY is looking for part time cleaning staff.  Will include County Courthouse, Admin office, Public Health building and Road and Bridge offices.  If you are interested or have questions, please contact Lynn at the Admin office at 970-944-2225 or email: accounting@hinsdalecountycolorado.us.  Applications are available at the front desk at the Admin office or you may email a resume.
____________________________________________________________________________________________________________________________________
South End/Upper Piedra House Number Sign Project Form - Click HERE   
____________________________________________________________________________________________________________________________________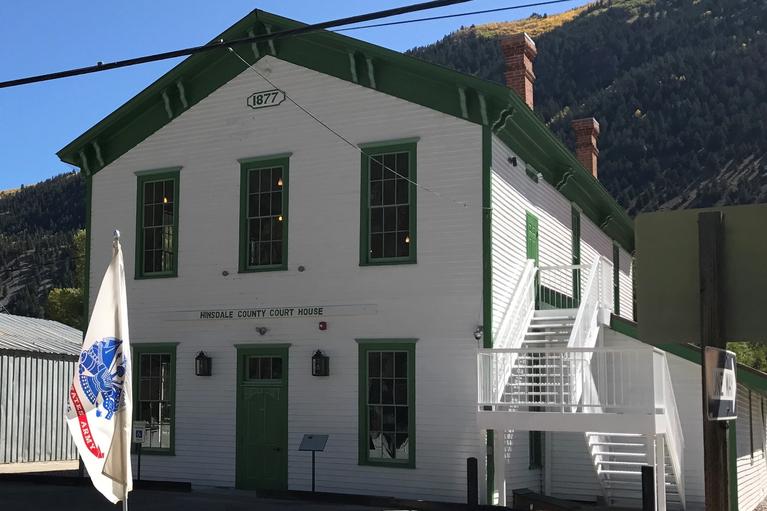 Silver Thread Public Health District is changing the way we report our COVID-19 testing numbers. With access now to both antigen 'rapid' testing and PCR saliva testing, which is sent to a lab with results returned in days, our ability to report pending cases and negative test results is not practical or useful. We will continue to maintain a running record of positive test results in both our counties and will also report the number of active COVID-19 cases in our communities. We will continue to report on current COVID-19 concerns on our Facebook page and will have the front page of our new website available soon. Search for Silver Thread Public Health District on Facebook for updates and information.
Tara Hardy, MS, Public Health Director
| | | | |
| --- | --- | --- | --- |
|   | Positive | Pending | ACTIVE CASES |
|   | Resident/Non-Resident |   | Resident/Non-Resident |
| Mineral | 82           13 | 0 | 0               0 |
| Hinsdale | 20               5 | 0 | 0                0 |
Anyone feeling sick should call Lake City Area Medical Center at 970-944-2331 to report symptoms.
Anyone who is sick or exhibiting COVID-19 symptoms is required to self-isolate at home.
For up-to-date information:
Silver Thread Public Health District website
http://www.silverthreadpublichealth.org
Silver Thread Public Health District Facebook page
https://www.facebook.com/Silver-Thread-Public-Health-District-2938172373
Click here for more information
   Facebook 
OHV Three Year Pilot Program
2021 Colorado Transportation Commission approved the OHV
New OHV Pilot Program Approved for Three Years
March 18, 2021
Lake City, CO – Colorado Department of Transportation (CDOT) Transportation Commission gave unanimous approval today to a new three-year Pilot Program that will allow Off-Highway Vehicles to operate on State Highway 149. This program makes it possible for OHV riders to travel the entire Alpine Loop Scenic Byway, which requires traveling on a 3.26-mile stretch of Hwy 149.
The Pilot Program will run seasonally in 2021, 2022 and 2023, from the Friday before Memorial Day through September 30 of each year. OHVs will be able to ride on Hwy 149 from CR 30 south of Lake City, to the Ocean Wave Drive intersection (MP 73.11) on the northern end of Lake City. OHVs are not permitted to ride on any other areas of the highway at any time outside the boundaries of the program.
OHVs are permitted on all Town and County roads. The Pilot Program only affects travel on the highway.
Hinsdale County, Town of Lake City and Hinsdale County Sheriff Department worked with CDOT representatives to identify specific considerations to be included in the pilot program permit that are intended to maximize the safety of OHVs traveling on the highway. After first reviewing the pilot program application in February, the Transportation Commission requested these safety conditions be included in the resolution up for approval.
Please click here for full press release HERE
Kristine Borchers is inviting you to a scheduled Zoom meeting.
Topic: Coffee Talk
Time: 10:00 AM Mountain Time Every Friday!   
Join Zoom Meeting  https://us02web.zoom.us/j/86310373718? pwd=bmdqSm45MEZvZmZYQTZFcnNISmd2QT09
Meeting ID: 863 1037 3718
Passcode: 451056
Meeting ID: 863 1037 3718
Find your local number: https://us02web.zoom.us/u/kbpQOcEveu
Kristie Borchers
Hinsdale County Commissioner
PO Box 277
Lake City, CO  81235
district2@hinsdalecountycolorado.us
970-596-9071
Little Blue Canyon Project
Estimated weekly traffic impacts through November 2022
​Work Hours: Monday-Fridays 8 AM-5:30 PM
Nightwork: Monday-Thursday 7:30 PM-6:30 AM
​Monday-Friday OPEN for single-lane, alternating traffic operations in the morning, midday, and evening during the following times:
6:30 – 8:30 AM (Mondays open to two-way traffic)

12:30 – 1:30 PM

5:30 – 7:30 PM
Full roadway closures all other times:
8:30 AM-12:30 PM 

1:30-5:30 PM 

7:30 PM-6:30 AM 
Fully OPEN on the weekends to two-way traffic (5:30 PM Friday to 8:30 AM Monday)   
Motorists should plan in advance, and expect long wait times during the queue for the Monday-Friday single-lane openings, alternating traffic operations in the morning, midday, and evening. And full roadway closures reduced speed limits and narrowed roads. Significant delays are anticipated.
​Traffic schedule and timeline are subject to change.
Below is a link to a chart with Times and Closures:
 https://static.wixstatic.com/media/669e06_06a5301783d748c6bbdf2d8fe1b688df~mv2.jpg/v1/fill/w_1706,h_771,fp_0.50_0.50,q_85/669e06_06a5301783d748c6bbdf2d8fe1b688df~mv2.webp
Board of County Commissioner Meetings
Tuesday, December 29, 2020   9:00 am - Agenda
Wednesday, January 6, 2021  8:00am - Agenda
Special Meeting Tuesday, January 12, 2021 10:15am - Agenda
Wednesday, January 20, 2021  8:00am - Agenda
Wednesday, February 3, 2010  8:00am - Agenda
Friday, February 5, 2021 9:00am - Agenda
Joint Meeting Wednesday, February 17, 2021  8:00am - Agenda
Wednesday, March 3, 2021  8:00am - Agenda
Friday, March 6, 2021 11:30am - Agenda
Thursday, March 11, 2021 11:00am - Agenda
Wednesday, March 17, 2021  8:00am - Agenda
Tuesday, March 23, 2021 8:00am - Agenda
Wednesday, March 31, 2021 8:00am - Agenda
Wednesday, April 7, 2021 8:00am - Agenda
Special Meeting Tuesday, April 13, 2021 - Agenda
Wednesday, April 21, 2021 8:00am - Agenda
Wednesday, May 5, 2021 8:00am
Wednesday, May 19, 2021 8:00am
Board & Committee Meetings
Marketing Meeting - Thursday, December 17, 2020 9am - Agenda
Planning Commission Meeting - Thursday, December 17, 2020 3pm - Agenda
Marketing Meeting - Thursday, January 14, 2021 9am - Agenda
Planning Commission Meeting - Thursday, January 21, 2021 3:00 pm - Agenda
Planning Commission Meeting - Thursday, February 25, 2021 3:00pm - Agenda
Planning Commission Meeting - Thursday, March 18, 2021 3:00pm - Agenda
Planning Commission - Thursday, April 15, 2021 3:00pm - Agenda