Welcome to Hinsdale County Colorado
Hinsdale County, Colorado, is the most remote area in the United States' lower 48 states. With a total area of 1,123 square miles, our county is made up of almost 96.5 percent public land. Hinsdale County is covered by mountains, including five 14,000 and over 20 13,000 ft. peaks, and contains one of the most road-less areas in the country. The Continental Divide crosses the county twice, and Hinsdale County is home to three national forests Rio Grande; Grand Mesa Uncompahgre & Gunnison (GMUG) and San Juan. The County is also host to the Slumgullion Earth Flow that slid and dammed the Lake Fork of the Gunnison River creating Lake San Cristobal. 
Hinsdale County is home to 774 residents with 374 residing within the city limits of the Town of Lake City. With an elevation of 8,671 feet and is the least populated county in the state of Colorado with Lake City as the county seat.
Whether you are a full time resident, a part time resident or a visitor, Hinsdale County has many outdoor adventures to offer. The summer and fall seasons boast hiking, biking, fishing and leaf peeping. The winter months bring skiing, snowshoeing, snowmobiling, ice fishing and ice skating. No matter the season Hinsdale County has many outdoor adventures.
Hinsdale County elects three County Commissioners and they hold Board of County Commissioners Meetings at 8:00 am the first and third Wednesday of the month.  All meeting are now conducted through Zoom and if anyone wants to be on the meeting notification list please feel free to email office@hinsdalecountycolorado.us or call 970-944-2225.  Meeting agendas are posted on this page next to a meeting date in the blue section at the bottom of the page. Past meeting agendas and minutes are posted under the Documents tab at the top of the page.
________________________________________________________________________________
NOTICE TO VOTERS                                                                                                                                                                               
The Primary Election will be held June 28, 2022
All elections are Mail Ballot Elections. The County Clerk's Office only mails ballots to active voters.
If you are not sure you are an active voter, please contact the County Clerk's Office at 970-944-2225 Ext 120.
You must be active no later than June 3, 2022 to receive a ballot by mail.
June 3, 2022 is the last day for a voter who is affiliated with a Political Party to change their affiliation if they wish to vote for a different party in the Primary Election.
Unaffiliated voters can choose a "Party Preference" by June 3, 2022 to receive the Primary Ballot that they wish to vote. This does not change your party affiliation from Unaffiliated it only indicates which party ballot you wish to receive in this Primary Election. If you do not pick a "Party Preference" you will receive both ballots but can only vote and return ONE ballot.
Logic and accuracy testing for voting equipment will be held on May 10, 2022 at 10:00 am The Public is Invited.
___________________________________________________________________________
                PAY BILLS HERE:
__________________________________________________________________________
Wildfire Action Plan
__________________________________________________________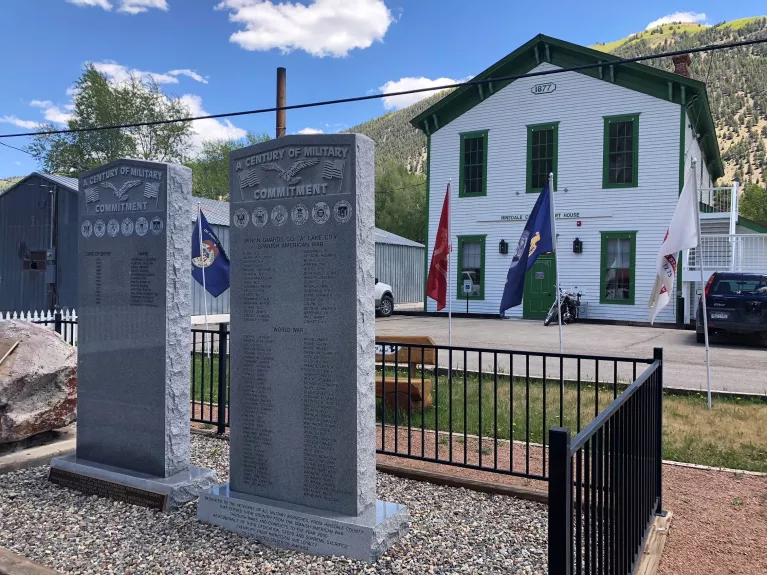 OHV Three Year Pilot Program
OHV Pilot Program begins Friday, May 27, 2022
Please notice the following......
Lake City – Hinsdale County OHV Regulations
All OHV use on Lake City and Hinsdale County roads must comply with the Colorado State statues pertaining to motor vehicles and follow posted speed limits.
All OHV's operators and or passengers must meet the following requirements:
MUST have a current Colorado OHV permit. Note: Colorado does not recognize permits from other states.

Operators must have a valid driver's license in their possession

Must have proof of current OHV liability insurance

Required to wear a restraint/seatbelt if: the OHV manufacturer originally incorporated restraint or child car seats. Child car seats and restraints must be used in accordance with Colorado motor vehicle laws CRS 42-4-236.

Under 18yrs must wear a DOT approved helmet unless in a child seat or age appropriate restraint. Child helmet exception is applicable ONLY for OHV's designed and manufactured to support a child seat.

Required to have proper eye protection (glasses, sunglasses, goggles, etc.) OHV's with windshields do satisfy this requirement. 

May not carry more passengers than designated by the manufacturer. All passengers must be seated in designated seating per manufacturer specifications.
It is unlawful to operate any vehicle off: designated streets, roads, highways or trails.
From May 28 until September 30, 2022, OHV's are allowed on State Highway 149 from the County Road 30 intersection south of town, to the Oceanwave Drive intersection ONLY. OHV's are NEVER allowed to travel on Hwy 149 past CR 30 to the south, or past the Lake City Bakery within the Town of Lake City.
Fines may be assessed from $75, not to exceed $1000
Please email us with any comments or suggestions office@hinsdalecountycolorado.us
For more OHV and Lake City Travel Information Information click HERE
Please click here for full press release HERE
Transportation Commission Resolution 3/18/2021
NEW TRANSFER STATION RATES
New Transfer Station Rates for 2022
The rates were increased based on an increase in rates at the Gunnison transfer station
Effective January 1, 2022
Hinsdale County Transfer Station Rates
Compactible Items
  Household trash
  Softer types of garbage
Per bag                                                                           $6.50 (Up to 39 Gallons)
             (No Discounts for Partially Filled Bags)                                 $9.75 (40 to 55 Gallons)
Compactible items                                                       $25.75/yard
            Number of yards will be determined by measuring
             the load (length x width x height) and dividing by 27, multiplied by price per yard
 Compactor trash trucks are $29.75/yard
Non-compactible, Open Container Items
   Furniture, construction materials, larger items 
Per bag                                                                           $8.25 (Up to 39 Gallons)
             (No Discounts for Partially Filled Bags)                                 $11.55 (40 to 55 Gallons)
             Open Container Items                                                  $33.00/yard
            Number of yards will be determined by measuring
             the load (length x width x height) and dividing by 27, multiplied by price per yard
Other Acceptable Items
Junk Cars - (All Gasoline, Oils, and Refrigerant Removed)     $266
Refrigerators                                                                                  $48
Tires – car/truck                                                                            $12 each
Tires – commercial truck/equipment                                        $17.60 each
Hot Water Heaters, Washers, Dryers, Etc.                                $28 each
Sofas w/hide-a-bed                                                                      $38.50 each
Larger furniture (sofas, tables, etc)                                           $27.50 each
Smaller furniture Items                                                               $11 each
Small animal carcasses (cats and dogs)                                    $22 each
Batteries                                                                                        $5 each
Electronics                                                                    $.75 per pound
Televisions, Monitors, Printers
Keyboards, Microwaves, CD/DVD Players
Natural timber and slash                                                $15.10/yard
   Number of yards will be determined by measuring
   the load (length x width x height) and dividing by 27, multiplied by price per yard
Motor & Cooking Oil                                                     $1 Per Gallon
   (Must Not Be Contaminated with Water or Antifreeze)
No Toxic Products, Asbestos, Etc. Accepted.
Refrigerators Must Have Freon Removed by a Certified Technician.
FREE Recycling - Glass, Aluminum & Cardboard (See Transfer Station for Restrictions)
Payment types include credit card, check and on account. Credit accounts are available with a $100 deposit.
Questions? Call 970-944-0529.Effective January 1, 2015 
― PROJECT ANNOUNCEMENT ―
Resurfacing improvement work to begin on 41 miles of CO 149 in Mineral, Hinsdale and Gunnison counties 
Construction to begin March 28
MINERAL, HINSDALE & GUNNISON COUNTIES — The Colorado Department of Transportation will begin a surface treatment and safety improvement project on Colorado Highway 149 on March 28. The work will take place north of Lake City and north of Creede with an anticipated completion date of late October.
The highway will be resurfaced in two separate locations:  
near Lake City - from about 10 miles north of Lake City, continuing south through the community, and ending just south of town. This 22 mile stretch lies within Hinsdale and Gunnison counties, between Mile Points 70 and 92.  

near C