Hinsdale County, Colorado, is the most remote area in the United States' lower 48 states. With a total area of 1,123 square miles, our county is made up of almost 96.5 percent public land. Hinsdale County is covered by mountains, including five 14,000 and over 20 13,000 ft. peaks, and contains one of the most road-less areas in the country. The Continental Divide crosses the county twice, and Hinsdale County is home to three national forests Rio Grande; Grand Mesa Uncompahgre & Gunnison (GMUG) and San Juan. The County is also host to the Slumgullion Earth Flow that slid and dammed the Lake Fork of the Gunnison River creating Lake San Cristobal.                                                                                                                                                                          
Hinsdale County is home to 774 residents with 374 residing within the city limits of the Town of Lake City. With an elevation of 8,671 feet and is the least populated county in the state of Colorado with Lake City as the county seat.
Whether you are a full time resident, a part time resident or a visitor, Hinsdale County has many outdoor adventures to offer. The summer and fall seasons boast hiking, biking, fishing and leaf peeping. The winter months bring skiing, snowshoeing, snowmobiling, ice fishing and ice skating. No matter the season Hinsdale County has many outdoor adventures.
Hinsdale County elects three County Commissioners and they hold Board of County Commissioners Meetings at 8:00 am the first and third Wednesday of the month.  All meeting are now conducted through Zoom and if anyone wants to be on the meeting notification list please feel free to email office@hinsdalecountycolorado.us or call 970-944-2225.  Meeting agendas are posted on this page next to a meeting date in the blue section at the bottom of the page. Past meeting agendas and minutes are posted under the Documents tab at the top of the page.
_______________________________________________________________________________
Hinsdale County is pleased to announce that we are now able to take payments online. By working with the Colorado Statewide Internet Portal Authority (SIPA) on their secured platform, you can click on the link below to make your payment with a credit card or e-check. Credit cards accepted are American Express, Discover, Mastercard, and Visa. A portal administration fee for credit card payments or electronic check payments will be charged and retained by the Portal, not Hinsdale County.
 A convenience fee of $1 will be charged for payments made using an electronic check regardless of the transaction amount.
The convenience fee for credit cards are as follows:  the amount of the (payment + $.75 x 2.25%) + $.75 (example for a payment of $10.00): ($10 + $.75) x 2.25% = $10.75 x 2.25% = $.24 + $.75=$.99. Your card would be charged $10.99 for the transaction.
________________________________________________________________________________
We want your input!
On the proposed final design for the 
Peninsula Park at Lake San Cristobal.
Based on feedback from public input meetings in June and September, Hinsdale County and project design team DHM Design have produced a draft master plan for the Peninsula Park at Lake San Cristobal.
Hinsdale County is accepting comments on the draft final Master Plan until January 16, 2022.
A copy of the plan is available for download  - CLICK HERE
Comments can be submitted by email to: administrator@hinsdalecountycolorado.us
______________________________________________________________________________
NOTICE TO VOTERS
We are starting to work on our 2022 Election Calendar.  We have two upcoming elections this year, June  28th 2022 (Primary) and November 8th 2022 (General).
To start off, January 3rd 2022 is going to be the last day to affiliate with a major or minor party, in order to run as a party candidate in the June Primary election (either through nomination or petition).
January 3rd 2022 is also the last day to register as unaffiliated, in order to be placed in nomination (by petition) as an unaffiliated candidate in the November General election.
January 18th 2022 Is the first day to circulate major party candidate petitions.
February 7th2022  Is the first day to circulate minor party candidate petitions.
______________________________________________________________________________________
  COVID information Click HERE for the Silver Thread Public Health web page
_____________________________________________________________________________
Social Security Resources
Social Security Resource Center has been compiling information that can be very helpful for local workers navigating the sometimes confusing Social Security system. 

Here are some resources for residents of Hinsdale County 
Residents can easily access the information here: https://socialsecurityofficenear.me/in/state/co/

This is helpful information for workers and also for the retired, elderly and disabled.

_____________________________________________________________________________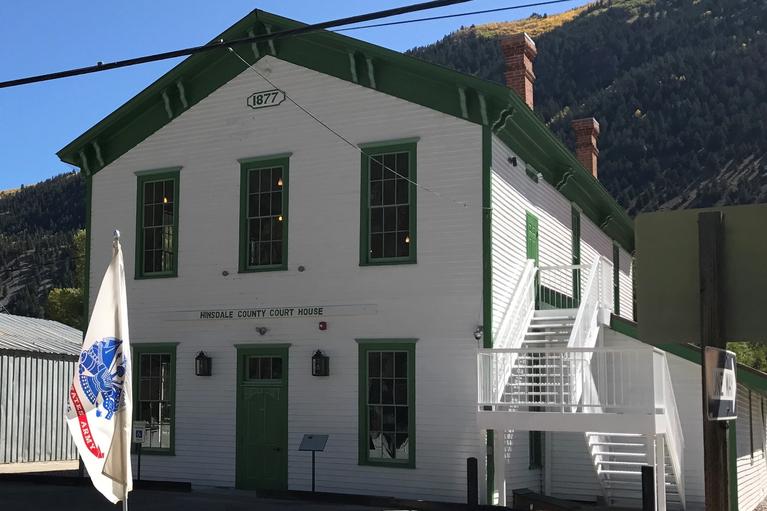 Hinsdale County and the Town of Lake City are participating in a three-year Pilot Program with CDOT that allows OHVs and ATVs to travel on Hwy 149.
This program makes it possible for OHV riders to travel the entire Alpine Loop Scenic Byway, which requires traveling on a 3.26-mile stretch of Hwy 149.
The Pilot Program will run seasonally in
2021, 2022, and 2023, from the Friday
before Memorial Day through     
September 30 of each year.
OHVs will be able to ride on Hwy 149 from CR 30 (MM 69.88) south of Lake City to the Ocean Wave Drive intersection (MM 72.11) on the northern end of Lake City.
OHVs are not permitted to ride on any other areas of the highway at any time outside the boundaries of the program.
OHVs are permitted on all Town and County roads. The Pilot Program only affects travel on the highway.
For personal safety and the safety of others, please exercise common road courtesy and
mountain-driving common sense.
TOWN AND COUNTY OHV Regulations
All OHV use on Lake City and Hinsdale County roads must comply with the Colorado State statutes pertaining to motor vehicles and follow posted speed limits.
All OHV operators and passengers must meet the following requirements:
•    MUST have a current Colorado OHV permit. Note: Colorado does not recognize permits from other states.
•    Operators must have a valid driver's license in their possession
•    Must have proof of current OHV liability insurance.
•     Required to wear a restraint/seatbelt if: the OHV manufacturer originally incorporated restraint or child car seats. Child car seats and restraints must be used in       accordance with Colorado motor vehicle laws CRS
•     Under 18 years must wear a DOT-approved helmet unless in a child seat or age-appropriate restraint. Child helmet exception is applicable ONLY for OHVs designed and manufactured to support a child seat.
•     Required to have proper eye protection (glasses, sunglasses, goggles, etc.) OHVs with windshields do satisfy this requirement.
•     May not carry more passengers than designated by the manufacturer. All passengers must be seated in designated seating per manufacturer specifications.
•     It is unlawful to operate any vehicle off: designated streets, roads, highways or trails.
OHVs are allowed on State Highway 149 ONLY in the Town of Lake City, north to the Lake City Bakery and south to County Rd. 30 (Lake Road). OHVs are NOT allowed to proceed beyond County Rd. 30.
Fines may be assessed from $75, not to exceed $1000.
Please contact the Lake City/Hinsdale County Chamber of Commerce and Visitor Center 970-944-2527 with
any questions or concerns. When traveling the loop be sure to check local rules and regulations in         
other towns.
Stay on the trail
Our alpine environment is extremely fragile and damage to the tundra can last hundreds of years.
Protect our land and keep trails open by staying on the trail and only parking in designated areas.
Learn TRAIL ETIQUETTE
Uphill traffic has the right away. Allow others to pass in appropriate spots and be patient with other trail users.
Use hand signals when passing to share how many are in your party. Learn more at LakeCity.com
TAKE IT SLOW
Louder doesn't mean faster. Be courteous of visitors, residents, and wildlife by slowing down to reduce excess noise and dust.
Slow down and give space to your fellow adventurers traveling on foot and bicycle.
KNOW WHERE TO GO
Look for brown signs that designate vehicle use for each trail type and be mindful of special closures.
Avoid unnecessary travel through residential areas and never travel on private property.
WITH A LITTLE PREPARATION, A SPIRIT OF ADVENTURE AND A SOFT SPOT FOR NATURE, YOU'LL BE ON THE TRAIL TO EXPLORING COLORADO LIKE A LOCAL.
Board of County Commissioner Meetings
Wednesday, January 5, 2022 8:00am - Agenda
Wednesday, January 19, 2022 8:00am - Agenda
Wednesday, January 26, 2022 8:00am - Agenda
Wednesday, February 2, 2022 8:00am - Agenda
Wednesday, February 16, 2022 8:00am - Agenda
Wednesday, March 2, 2022 8:00am - Agenda
Wednesday, March 30, 2022 8:00am - Agenda
Wednesday, April 6, 2022 8:00am - Agenda
Wednesday, April 20, 2022 8:00am - Agenda
Wednesday, May 4, 2022 8:00am - Agenda
Wednesday, May 18, 2022 8:00am - Agenda
Wednesday, June 1, 2022 8:00am - Agenda
Joint SE Meeting Wednesday, June 15, 2022 8:00am - Agenda
Wednesday, June 29, 2022 8:00am - Agenda
Wednesday, July 6, 2022 8:00am - Agenda
Wednesday, July 20, 2022 8:00am - Agenda BOE Protest Hearing if Needed
Wednesday, August 3, 2022 8:00am - Agenda
Joint Meeting Mineral Host Wednesday, August 17, 2022 8:00am - Agenda
Wednesday, August 31, 2022 8:00am - Agenda
Wednesday, September 7, 2022 8:00am - Agenda
Wednesday, September 21, 2022 8:00am - Agenda
Wednesday, October 5, 2022 8:00am - Agenda
Wednesday, October 19, 2022 8:00am - Agenda
Wednesday, November 2, 2022 8:00am - Agenda
Wednesday, November 16, 2022 8:00am - Agenda
Wednesday, November 30, 2022 8:00am - Agenda
Wednesday, December 7, 2022 8:00am - Agenda
Wednesday, December 21, 2022 8:00am - Agenda
Wednesday, December 28, 2022 8:00am - Agenda